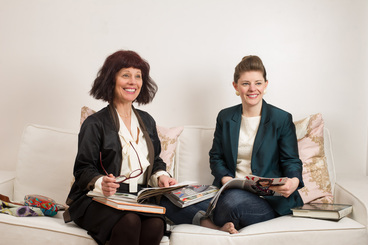 Welcome to TIEN 2

We're one of a kind and limited production wool, silk, cotton and linen women's wear & we're one of a kind and limited production gold and silver jewelry. We're two of a kind in our belief that personal empowerment is found through self expression - what we wear is part of that.

Owned and operated by two resident artisans, Vivienne Lowe ~ Clothier and Sandra McIntyre Lowe ~ Studio Jeweler, TIEN 2 embraces the cottage industry. Our creations are designed and constructed by us … on site … for you. In addition to our own creations, TIEN 2 celebrates small groupings of beautiful pieces created within the global economy.

Nestled in Mackerel Cove, Beverly, Massachusetts, we're steeped in tradition. We provide the customer with a direct designer client connection. Whether you are making a selection from our ever-growing production or you are treating yourself or someone you love to a made-to-measure garment or jewel, let TIEN 2 be part of your story. Visit us on line or pop into our 20 Lothrop Street atelier - we would love to meet you in person!
---